Caldererías Indálicas
More than 25 years at your service
NATIONAL SCOPE
Caldererías Indálicas , a company established in 1993 in Agua Amarga (Almería) dedicated to engineering, manufacturing, assembly, installation, maintenance and repair of metal structures, boilermaking, pressure equipment and industrial facilities, committed to QUALITY, the ENVIRONMENT and LABOR SAFETY as a fundamental element of its business culture, also based on achieving continuous improvement.
All this effort is applied in order to achieve maximum customer satisfaction, the prevention of environmental pollution, and the assurance of safety in the performance of work by your team.
INTERNATIONAL
This philosophy places Caldererías Indálicas , through a sustained process of growth, in an outstanding position within our sector, which has led us to expand throughout the North of the African Continent with two branches and a subsidiary in Morocco.
Likewise, our manufacturing process under the most prestigious and recognized worldwide standards open the doors to the export of products internationally, consolidating our central workshops in Almería, from which equipment is already sent to Europe, South America and Africa.
A UNITED TEAM
Caldererías Indálicas has a team of 450 people divided into five areas:

MORE INFORMATION
▪ Ingenieros de Diseño y Cálculo: ASME, TEMA, EN, API.
▪ Ingenieros Jefes de Proyecto.
▪ Ingeniero Internacional de Soldadura.
▪ Delineantes Proyectistas.
▪ Delineantes Industriales.
▪ Inspector de construcciones soldadas. MORE INFORMATION
Jefe de producción
Encargados
Oficiales ASSEMBLY, MAINTENANCE AND START-UP
MORE INFORMATION
Director de Puesta en Marcha
Ingenieros Responsables de Sistemas
Ingenieros Jefes de Obra
Encargados de Obra
Jefes de Equipo
Personal de Oficio

ADMINISTRATION - PERSONAL
MORE INFORMATION
Jefe de Administración.
Jefe Recursos Humanos.
Jefe de Compras.
Jefe de Almacén
Administrativos. SAFETY AND HEALTH, QUALITY AND THE ENVIRONMENT
MORE INFORMATION
Responsables de Departamento.

Coordinadores/as de Seguridad y Salud.

Técnicos/as Superiores en Prevención de Riesgos Laborales.

Técnicos/as Superiores en Prevención de Riesgos Profesionales (intermedios).

Licenciados/as en Medio Ambiente

Técnicos en Calidad del Producto y Servicio.
CENTRAL OFFICES AND WORKSHOPS IN ALMERÍA
600 m2 of offices
Outdoor warehouse, 84.000 m2
1.000 m2 of warehouses
10.000 m2 divided into 2 warehouses with overhead cranes, including blasting and painting areas
Machinery for the elaboration and forming of heavy boilermaking
Bridge cranes of different capacities with a free height under the hook of up to 12 meters
Blasting booth: 12 x 20 x 15 m.
Open painting booth: 12 x 20 x 15 m.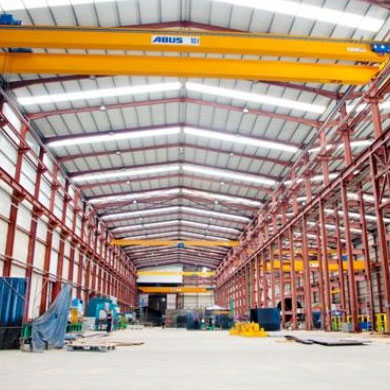 MOROCCO HEADQUARTERS
WORKSHOP AND OFFICES
WORKSHOP IN MOROCCO
We have a workshop of 2.500m21.750 m2covered, with 3, 6 and 16 tonne overhead cranes, with a total lifting capacity of 32 tonnes. We also have large capacity machinery "on site":

Cylinder for sheet metal bending
Submerged arc welding equipment (SAW)
Manual welding equipment
Manual flame cutting equipment
Automatic cutting equipment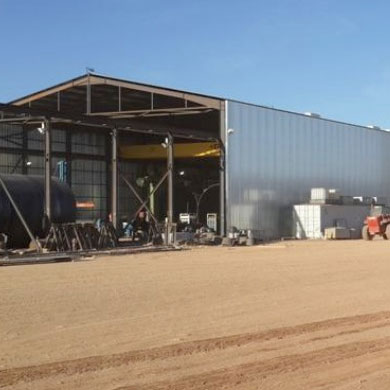 COMMERCIAL OFFICES IN CASABLANCA
From our commercial offices in the capital, contracts with the neighboring country are managed and the administrative procedures that are required are carried out.
Sede Central
Ctra. Carboneras, N341,
Venta del Pobre
Phone : 950 548 100
Fax: 950 548 101
MELILLA DELEGATION
C/ Puerto comercial,
Nordeste II s/n
Phone / Fax: 952682463
Mobile: 637040326/661969230
CEUTA DELEGATION
Muelle Poniente, 106, 6ª
Phone / Fax: 956 501 835
Mobile: 637082457/687838805
MOROCCO HEADQUARTERS
Boulevard de Paris, Rue Commandant Cottenest, cinquiéme étage, Appt. 59 Phone/Fax: 212663310029
CAMPO GIBRALTAR DELEGATION
Pol. Centro Bahía Guadacorte, Nave 10
Crta. Nacional 340 km115,
11379 Los Barrios, Cádiz
T +34 950 548 100 / +34 636 340 295
MADRID DELEGATION
Camino Fuente de la Mora, 9, 1ª Planta
28050 Madrid
Tlf. +34 673 207 196
NORTH DELEGATION
Mobile +34 654 305 932
Phone +34 950 548 100
Delegación Canarias
Calle los Dragos 33. Polígono ARINAGA
Las Palmas de Gran Canaría 35118 Las Palmas
Movil +34 637 803 006
Phone +34 950 548 100
LOCATION
We are located in the province of Almería, in the south-east of Spain and just 20 minutes from two commercial sea ports.
We also have delegations in Melilla and Ceuta, as well as a Commercial and Engineering Office in Madrid.
The Moroccan subsidiary Caldererias Indalicas Marroc SARL AU, located in Casablanca.
Central
Ctra. Carboneras, N341,
Venta del Pobre
Melilla
C/ Puerto comercial,
Nordeste II s/n
Marruecos
oulevard de Paris, Rue Commandant Cottenest, cinquiéme étage, Appt. 59
Delegación Gibraltar
Madrid
Las Palmas